Buy 2, Get 1 Free! 🔥 🔥 
Premium Quality. No leaks whatsoever. 

Innovative Design with a valve on the bottom. Just insert the perfume nozzle in the valve and pump up and down until full. It's that easy. !
Pocket Perfume™ is the perfect way of carrying your favorite fragrances everywhere. 
Be it a vacation, party, dinner, or gym, Pocket Perfume™ allows you to smell your best Anywhere, Anytime!

Pocketable size, perfect to take with you anywhere, especially when you travel and to parties. It is a great gadget to keep you smelling fresh and boost your confidence. The innovative 'pump to fill' refillable system perfectly transfers your perfume without spills or damaging exposure to air! The volume is low enough to take onto flights, it truely is your best travel companion. 

Can also be used for Essential Oils and Aftershaves!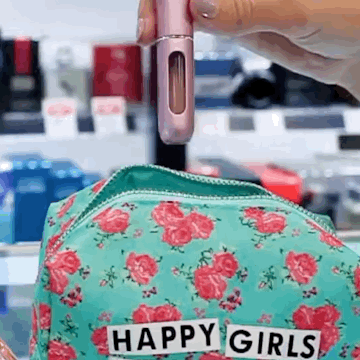 SPECIFICATIONS:
Material: Aluminum Oxide 
Product Capacity: 5 ml
Weight: 13 grams
Size: 17 x 81 mm
Color: Black, Pink, Blue, Red, Green, Orange, Silver, Light Pink, Gold