COLD AIR, PORTABLE DESIGN
SUMMER SALE: 50% OFF Ends Today!

We are bringing you cold, refreshing air to any room at any time with our Mini USB Portable Air Conditioner! This amazing machine does more than just cool your room however, it also acts as a humidifier and purifies the air around you. All of that in one unit makes this Air Conditioner space-efficient and economical.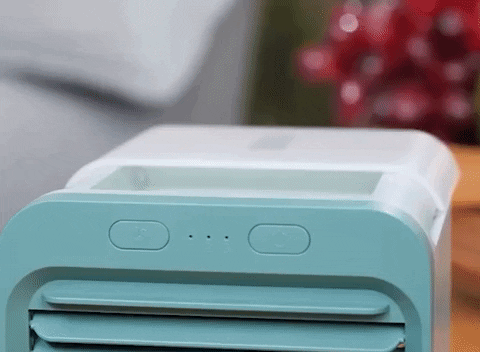 Don't be fooled by its small size, the Mini USB Portable Air Conditioner is brought and used just about anywhere and can be powered by a power bank or laptop. It is just over 15 cm tall (5.96 inches) and will hardly take up any room. It is super simple to set up, just plug it in, pour in your water (and optional ice cubes,) and enjoy!
Features:
Personal Space Cooler: Designed to create a personal temperature environment, this machine combines fans, air circulators, evaporative coolers, and atomized humidifiers to help you enjoy a cool and comfortable summer.
Quick-Cooling Timer Functionality: This AC unit can drop the temperature 5-7 degrees Celcius in just a few minutes after adding ice to the unit. This unit works best within a 2-foot radius of you.
Upgraded Cooling System: This new model has an upgraded motor to be more powerful and quieter, registering only 45 dB of noise.  We've also added adopted evaporative misting technology to achieve low energy consumption, and 3 wind speeds options.
Eco-Friendly & Energy-Saving: New low energy consumption technology uses the same power consumption of a light bulb. This unit uses no freon making it much cheaper than running a freon air conditioner on hot summer days. No exposed blades limit the possibility to hurt people and pets.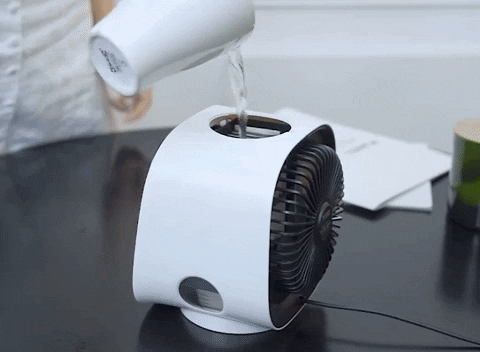 Specifications:
Product Size: 166 x 152 x 145 mm
Rated Voltage: 5V - 1A
Weight: 520 grams
Color: Green/Pink/White and Black
Power Source: USB 
Cooling Source: 300 ml water & Ice


Notes: 
The recommended amount of water for usage is 300 ml. There is a window on the side of the unit to allow viewing of how much water is in your unit.
Due to monitor and screen settings, the exact color of the units might differ slightly from what you see.