EARLY MOTHERS DAY SPECIAL:
Sale Ends Today!


The Safest Way To Trim Babies Nails!
Are you nervous about cutting your baby's nails? It's
easy to make mistakes when they're being fussy and their skin is so delicate..
Studies show that trust issues and anxiety can form when you make a mistake like something as simple as cutting your baby's hand.
Nails Clippers Result In Sharp Nails & Scratches!
Our SafeCut™ Baby Nail Trimmer Set
is statistically proven to be the safest way to trim your child's nails.
Including 6 different heads so that you can file and grind down the nail rather than blindly cut, it also has a LED light on the end to illuminate the skin so you can separate the nail from the hand.
100% silent, it won't startle your baby before the process even begins.
Features
Scientifically Proven Safest Way To Cut Nails
6 Different Attachable Heads
Absolutely No Chance Of Harm To Hands
Reduce Anxiety & Fear After A Mistake
End Scratching To Their Delicate Skin
Built-In LED Light
Quiet Design, Don't Startle Your Child
4 Adjustable Speed Modes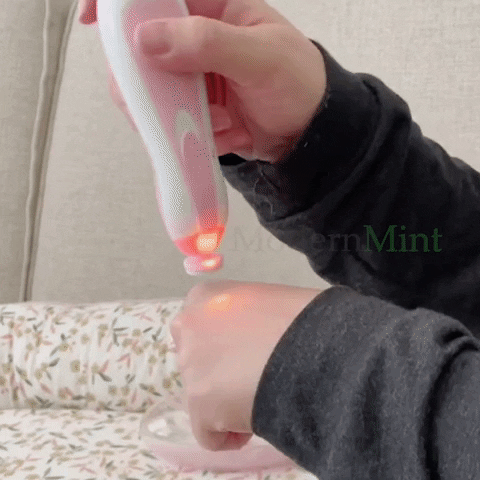 Your child's skin is so delicate, that it is necessary to keep their nails short.
Even tossing and turning at night could result in a cut on their face or skin.
Most parents feel anxious using traditional nail trimmers and this can lead to procrastination. As a baby with no control, it can end in serious damage to their skin, eyes, or fingers.
Each SafeCut™ Baby Nail Trimmer has
4 adjustable speed modes
so you can find what's comfortable for you and your child. Switch it from clockwise to counterclockwise and
test the different heads on yourself before your child.


Specifications
Material: ABS
Power Supply: 2 x AA Batteries (Not Included)
Features: Electric, 6 in 1, Low Noise, Clipper Tool
Length: 13cm/5.12", Width: 4cm/1.57" (Approx.)