Most Enjoyable Way To Help Shred & Tone Fat!



Sale Ends Today:

The Price Will Return To $139.99

Hula Hoop Hero is one of the easiest and most efficient way to do cardio
 with limited space, using several rings that are adjustable, simply put it on and start to hula! Focusing your core and leg muscles directly, it's perfect to help toning and
getting a multi-muscle exercise at any time, anywhere!


A Great Gift For Mom, Family, or Friends! It's the most enjoyable way to get help burn calories for Summer.
Adjustable, Comfortable Design
Easily Exercise Anywhere, No Space Needed
Fits Up To 70" Waist Size
Helps Burn Up To 400 Calories An Hour
Works Cardio & Full Body Muscles
Adjustable Weight Ball
The weighted ball includes a pouch that is filled with sand and
can be easily adjusted at any point to create the resistance you desire.
Depending on weight
it can help burn up to 400 calories an hour, the equivalent of HIIT bicycle cardio.
Each Hula Hoop Hero is made of a soft, flexible rubber waistband that can be adjusted for waist sizes up to 70".
See a real customer review below!
"After 15 minutes a day for 9 days, I lost my first link on the Hula Hoop Hero. I haven't felt this good since I was a teenager playing sports"
- Danielle Sansford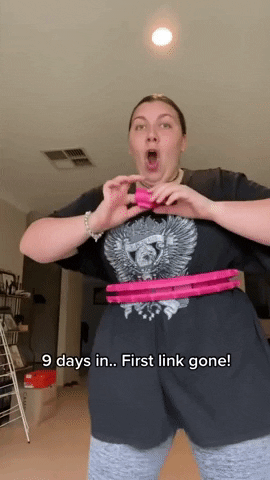 SPECIFICATIONS:
Age Group: 18-60 
Function: Full-body shaping & toning
Material: ABS
Color: Pink
Maximum Diameter: 45cm
Ball Size: 11*7*7cm