A Fun New Family Game
Penguin Trap is an ice-breaking, block-busting good time for kids and families alike. Take turns slowly knocking away the ice blocks while trying to set up the perfect trap for the other player to knock down the penguin, but don't knock him down yourself!
How To Play:
1) Spin the turn meter to determine what color of block you have to knock down. You can either get clear, blue, no turn, or your choice. 
2) Grab your pickaxe and gently tap away from your desired ice piece, but be careful not to knock out too many pieces. 
3) The person who breaks the ice that knocks over the penguin in the middle loses the game.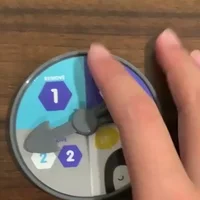 Penguin Trap is a perfect game for kids of all ages. It will help them develop color and pattern recognition while also letting them practice their dexterity and hand-eye coordination. Add an easy and fun game to your collection this year with Penguin Trap.
SPECIFICATIONS:
Material: Plastic
Players: 2
Size: 17cm x 15cm x 1.7cm/6.69" x 5.91" x 0.67"
PACKAGE INCLUDES:
1 x Game Board
1 x Turn Meter
1 x Penguin
19 x Blue Ice Cubes
19 x White Ice Cubes
4 x Columns
2 x Hammers