Family Fun Game Of The Year!

2-4 Players
Easy & Fun For All Ages
Develops & Sharpens Math Skills
Ships Out Within 2 Days Of Ordering
Shut The Box is an instant-hit board game returning from last year. Families from all over the world enjoyed the easy-to-learn, high-action gameplay. Play with 2 to 4 players and enjoy hours of entertainment.

GREAT LEARNING TOOL

 

- A tool for teaching basic additions, subtractions, multiplications, and/or divisions to the kids.

CLASSIC FAMILY GAME

 

- A popular game being played worldwide today. This easy game will provide hours of fun with your family/friends!
PREMIUM QUALITY

 

- Made of solid pinewood and measuring 9 x 9in
Not only is this one of the most popular games of last year, but it's also a great learning tool for young children, teaching basic addition, subtraction, multiplication, and/or division!
The majority of the board and the dice are made up of beautiful, solid pine wood with a soft finish. The rest of the board is lined with premium felt fabric which is soft to the touch, making the overall experience perfect in every way.
Made of premium quality solid pine wood, its total size equals 9 x 9 inches.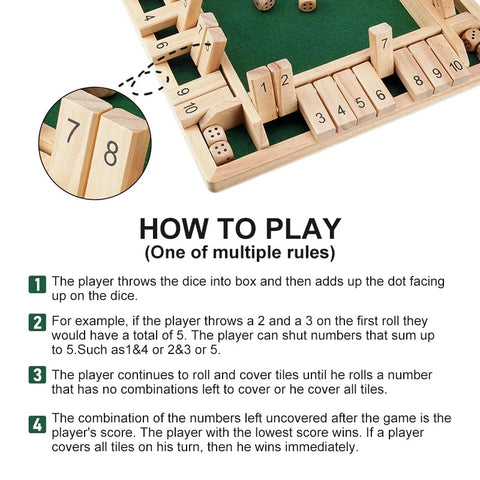 PACKAGE INCLUDES:
1 x Shut The Box Game Table
2 x Wooden Dice